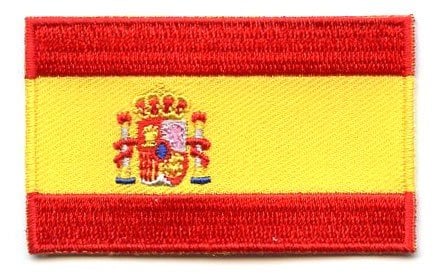 Spain flag patch
Regular price
$4.00
/
Tax included.
Shipping
calculated at checkout.
---
Free worldwide shipping from €50
In stock, ready to ship

Inventory on the way
Size of this Spain flag patch: 6.5 x 4 cm (2.56 x 1.57 inch)
The flag of Spain consists of three horizontal stripes:
- The top and bottom stripes are equal-sized and red
- The middle yellow stripe is double the size of the red stripes
Towards the left side of the yellow stripe is the country's coat of arms, which consists of a crowned shield, quartered and guarded on each side by the crowned Pillars of Hercules - representing Gibraltar and Cueta. Each quarter displays badges of the original Spanish kingdoms. In the centre of the shield is the emblem of the reigning Spanish royal Family, House of Bourbon, which is a blue oval with a red-edged border containing three fleur de lies. At the bottom of the shield is a pomegranate representing Grenada. Wrapped around the pillars is a red scroll with the motto 'Plus Ultra' written on it. The motto translates to 'there is more beyond'.
Facts about the Spain flag patch:
1. A flag oath called the 'jura de bandera' took place every year when Spanish youths ended their military service. Any Spanish citizen could attend the ceremony and take part in the oath. Citizens are not otherwise sworn in to the flag.
2. There is also a civil flag of Spain which is quite commonly seen throughout the world. It is the same as the national flag but it doesn't have the coat of arms in it.
3. No other countries used the red and yellow colors at that time.