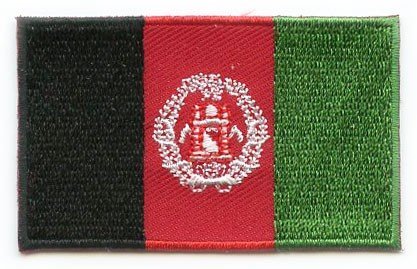 Afghanistan flag patch
Regular price
$4.00
/
Tax included.
Shipping
calculated at checkout.
---
Free worldwide shipping from €50
In stock, ready to ship

Inventory on the way
Size: 6.5 x 4 cm (2.56 x 1.57 inch)
The Afghanistan flag consists of three, even vertical stripes running from left to right of black red and green background. In the centre of the red stripe is the emblem of Afghanistan - either in white or yellow/gold. The emblem consists of an Arabic religious inscription and below it lays a mosque with a prayer mat inside it facing Mecca. There are two flags attached to the mosque which represent flags of Afghanistan. Underneath the mosque is an inscription stating the name of the nation and surrounding the mosque are sheaves of wheat.
Meaning: There are conflicting descriptions of the Afghanistan flag's meaning. In 2002, when this version of the Afghanistan flag was adopted, border affairs ministry official Abdul Wakil Omari said that the flag's colors represented different eras in the country's history. Omari said that black represented the 19th century era when Afghanistan was occupied and not independent; that red represented the fight for independence; and that green represented that independence was achieved. But these three colors originated in 1928 and have been on Afghan flags since then until 1978. So it is thought that the color black may represent previous Afghan flags which represented the sovereign; red was possibly introduced by former king Aman Allah as a sign of progress, copied from the Soviet flag; and that green stands for Islam.
History: The present day Afghanistan flag was introduced in 2002 by the country's transitional government after the Taliban were defeated. Afghanistan had a similar flag during its monarchist reign from 1930 to 1973, but some of its previous versions were radically different. Afghanistan has undergone many flag changes, among the most in the world, during the 20th Century. In the 16th and 17th centuries Afghanistan was part of the dominions of the Shah of Persia Abbas and there are copies of flags dating back to that era. The Afghanistan nation-state as it is known today came into existence in 1746.
Interesting Facts: Before the 20th Century the flag was all black. Between October 1978 and April 1980 the Afghan flag was predominantly red with an emblem in the top left corner. After the Taliban were defeated in late 2001, both the 1992 and 1973 flags were flown by different factions of anti-Taliban forces (source: worldflags101).