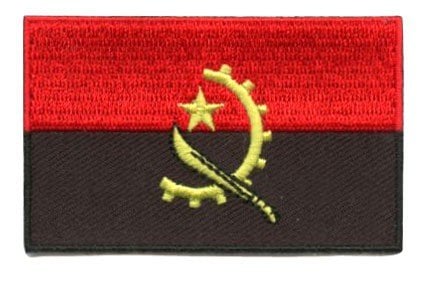 Angola flag patch
Regular price
$4.00
/
Tax included.
Shipping
calculated at checkout.
---
Free worldwide shipping from €50
In stock, ready to ship

Inventory on the way
Size: 6.5 x 4 cm (2.56 x 1.57 inch)
The Angolan flag is divided into two halves - the top half is red and the bottom half is black. In the middle of the flag is a yellow emblem consisting of a partial cog wheel, a machete and a star.
Meaning: The red in the flag represents the blood shed by Angolans during oppression, the national liberation struggle and the defense of the country. The black represents the Continent of Africa. The emblem's cogwheel represents the laborers, and industrial production, and the machete represents peasants, agricultural production and the country's armed struggle. The star symbolizes international solidarity and progress while the color yellow represents the wealth of Angola.
History: The current Angola flag was adopted on November 11th 1975 after Angola became independent from Portugal. Angola was discovered in 1483 by a Portuguese mariner and was one of the last African colonies to gain independence. There was a flag proposed for Portuguese Angola during 1967 but it never materialized.
Interesting Facts: The emblem on the Angola flag is similar to the hammer and sickle emblem on the flag of the former Soviet Union, which is a symbol of Communism. In 2003, a new flag was proposed for Angola, but it hasn't yet been ratified or formally adopted. The proposed Angola flag is extremely different in design and symbolism (source: worldflags101).