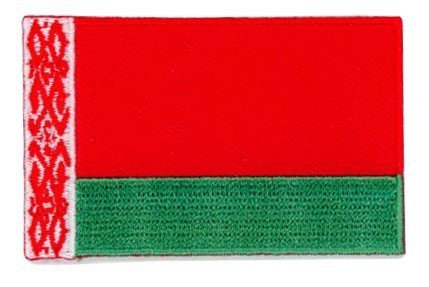 Belarus flag patch
Regular price
$4.00
/
Tax included.
Shipping
calculated at checkout.
---
Free worldwide shipping from €50
In stock, ready to ship

Inventory on the way
Size: 6.5 x 4 cm (2.56 x 1.57 inch)
The Belarusian flag consists of a large red horizontal stripe on top of a smaller green horizontal stripe. The red stripe covers the upper two thirds of the Belarusian flag, while the green stripe covers the lower third. The left side of the Belarusian flag features a vertical white stripe with red borders and red diamond shape ornaments inside of it, which is a traditional Belarusian pattern. The Belarusian flag is fixed on a flagstaff painted golden with ochre.
Meaning: The green stripe symbolizes the future. Green is the color of hope, spring and revival and the color of Belarus' lands forests and fields. The red represents Belarus' past and the blood of the country's defenders. The Belarusian flag's decorative pattern symbolizes Belarus' rich cultural heritage, its spiritual continuity, and the unity of its people.
History: The present day Belarusian flag was adopted on June 7, 1995. This flag is very similar to the flag used when Belarus was a part of the Soviet Union, although it doesn't have the sickle and hammer emblem. Belarus was recognized as an independent country from the Soviet Union in 1991. There was a proposal for a Belarusian flag in 1993 but it was rejected by the public. From 1991 to 1995 Belarus' flag was a white, red, white horizontal stripe design.
Interesting facts: Just over 75 per cent of the people who voted in a referendum approved of the Belarusian flag (source: worldflags101).