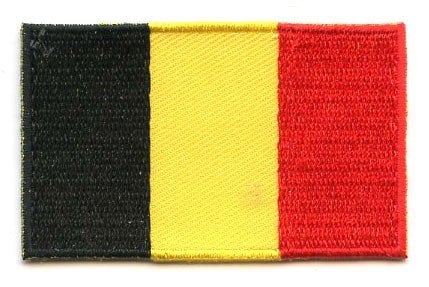 Belgium flag patch
Regular price
$4.00
/
Tax included.
Shipping
calculated at checkout.
---
Free worldwide shipping from €50
In stock, ready to ship

Inventory on the way
Size of this Belgium flag patch: 6.5 x 4 cm (2.56 x 1.57 inch)
The Belgian flag consists of three equal sized vertical stripes - the left stripe is black, the middle one is yellow and the right stripe is red. The colors are based on the coat of arms of the province of Brabant. The vertical stripe design was based on the design of France's flag.
After Belgium gained independence from the Netherlands in 1830, on 23-01-1831 the Belgian flag was adopted. The official proportions of the Belgian flag are 13:15, referring to the relationship of the width (height) to length.
Facts about this Belgium flag patch:
1. During a revolution in 1789 the Belgian flag appeared with the same colors, but was designed with the stripes running horizontal.
2. If anybody shows public disrespect for the Belgian flag, by stepping on it, or tearing or burning it, that person could be imprisoned for a period ranging from 8 days up to 1 year - plus a fine.