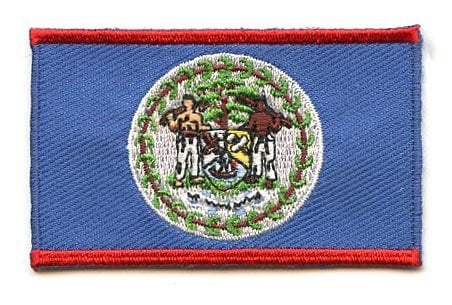 Belize flag patch
Regular price
$4.00
/
Tax included.
Shipping
calculated at checkout.
---
Free worldwide shipping from €50
In stock, ready to ship

Inventory on the way
Size: 6.5 x 4 cm (2.56 x 1.57 inch)
The flag of Belize consists of a royal blue base with a thin red horizontal stripe going across the top and bottom of the flag. In the middle of the Belize flag is a circular white base with an emblem on it. In the center of the white circle there is a coat of arms. On the left of the coat of arms there is a man holding an axe, and on the right side another man is holding an oar. Above the coat of arms there is a tree and below it is Belize's motto.
Meaning: On the white circle is an inner green circle consisting of 50 olive leaves. The 50 leaves represent the year 1950, which was when Belize, which was formerly known as British Honduras, began its quest for independence from Britain. The country was renamed Belize in June of 1973. When independence was realized, the two red stripes were added to the country's previous flag. The Belize flag represents the unity of the nation's people.
History: The present day Belize flag was adopted on September 21, 1981, after Belize gained independence from Britain. The previous Belize flag, without the red stripes, was adopted in 1950. Belize has been a self governing country since 1964.
Interesting Facts: The motto on the Belize flag "Sub umbra floreo", means "I flourish in the shadow" (referring to the dependence from the UK), wasn't changed on the Belize flag in 1981 even after independence was achieved (source: worldflags101).