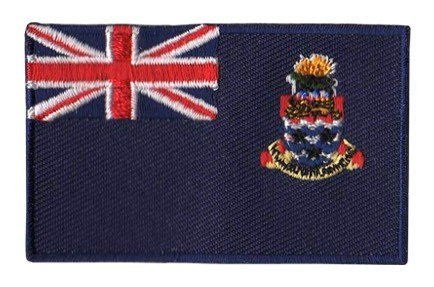 Cayman Islands flag patch
Regular price
$4.00
/
Tax included.
Shipping
calculated at checkout.
---
Free worldwide shipping from €50
In stock, ready to ship

Inventory on the way
Size: 6.5 x 4 cm (2.56 x 1.57 inch)
The flag of the Cayman Islands consists of a navy blue base with a British Union Jack in the top left hand corner. On the right side of the flag, situated in the middle is the Cayman Island's coat of arms.
Meaning: The Cayman Islands coat of arms consists of a shield, a crested helm and a motto. The three green stars in the crest represent each of the Cayman Islands. The stars rest on blue and white wavy stripes; which represent the sea. In the top third of the shield, against a red background, sits a gold lion; which represents Great Britain. There is a green turtle on a coil of rope above the crest and behind the turtle is a gold pineapple. The turtle symbolizes the nation's seafaring history and the pineapple symbolizes the Cayman's ties with Jamaica. The country's motto, "He hath founded it upon the seas", is situated beneath the crest. This motto was taken from Psalms 24 and acknowledges Cayman Island's Christian heritage.
History: The Cayman Islands flag was adopted on May 14, 1958. Prior to that, the Cayman Islands used the British flag for all official occasions because it is a British Overseas Territory.
Interesting Facts: The Cayman Islands issued a postage stamp in remembrance of the September 11, 2001 terrorist attacks in the Unites States. The stamp shows the Statue of Liberty, the US flag, and the Cayman Islands flag. A turtle appears in the Cayman Islands flag's coat of arms because the Cayman Islands were once known as 'Tortuga' (which translates to 'turtle' in Spanish), by the pirates who terrorized the Caribbean Sea. The Cayman Islands were called 'Tortuga' because the island was crowded with turtles (source: worldflags101).