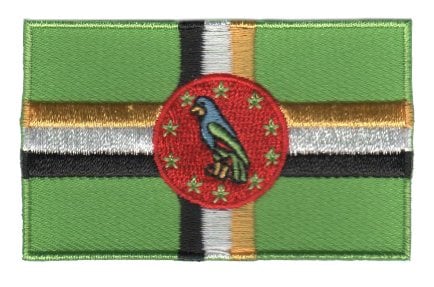 Dominica flag patch
Regular price
$4.00
/
Tax included.
Shipping
calculated at checkout.
---
Free worldwide shipping from €50
In stock, ready to ship

Inventory on the way
Size: 6.5 x 4 cm (2.56 x 1.57 inch)
The flag of Dominica consists of a forest green base with three equal sized vertical stripes and three equal horizontal stripes crossing through the middle of it. The stripes go from left to right and from top to bottom. They are yellow, black and red in color. In the middle of the Dominican flag is a red circle with a Sisserou parrot facing the left side (hoist side). Circling the parrot are 10 green five pointed stars with yellow outlines.
Meaning: The ten green stars, which are the traditional symbol of hope, represent the ten parishes of Dominica. The Sisserou Parrot is the national bird of Dominica and symbolizes flight towards greater heights and fulfillment of aspirations. The Parrot also comes from the Dominica Coat of Arms, representing the official seal of the country. The Dominican flag's stripes form a cross representing the Trinity of God. The cross itself demonstrates belief in God. An official Dominican announcement also stated: "The yellow stripe represents the sunshine of our land, our main agricultural products: citrus and bananas and also a symbol of the Carib people, the first inhabitants of the Island. The white stripe represents the clarity of our rivers and waterfalls and the purity of aspiration of our people. The black stripe represents the rich black soil of our island on which our agriculture is based and also our African heritage. The general background of dark green symbolizes our rich verdant forests and the general lushness of the island."
History: The Dominican flag was adopted on November 3, 1978 when it gained independence from Britain. The Dominican flag was then modified in 1988, when yellow outlines were added to the stars and the white and black stripes changed positions with each other. In 1988 the parrot, which was originally facing to the right, was turned to face the left of the Dominican flag.
Interesting Facts: The Dominican flag was based on a design which was entered into a flag competition. (source: worldflags101)