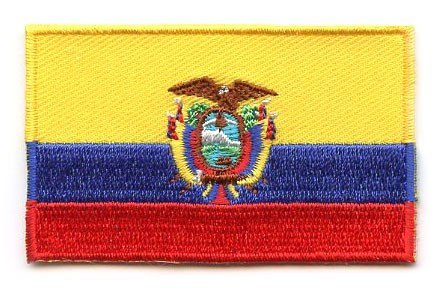 Ecuador flag patch
Regular price
$4.00
/
Tax included.
Shipping
calculated at checkout.
---
Free worldwide shipping from €50
In stock, ready to ship

Inventory on the way
Size: 6.5 x 4 cm (2.56 x 1.57 inch)
The flag of Ecuador consists of three horizontal stripes - the top stripe is yellow; the middle one blue; and the bottom stripe is red. The yellow stripe is half of the width of the flag and the blue and red stripes are one quarter each. In the center of the Ecuador flag is the country's coat of arms.
Meaning: The red in the Ecuador flag represents the blood shed by the soldiers and martyrs in the battles for independence. The color blue stands for the color of the sea and sky; while the yellow symbolizes the abundance and fertility of the nation's crops and land.
History: The Ecuador flag was adopted on September 26, 1860, making it one of the world's oldest flags.
Interesting Facts: The flags of Ecuador, Colombia and Venezuela are very similar because upon their independence in 1822 they formed a confederation called Gran Colombia. After they parted ways in 1830, they all retained the same essential flag design, whose inspiration is attributed to freedom fighter General Francisco Miranda. The bird on the Ecuador flag's coat of arms is an Andean Condor. This native South American bird is also on the arms of Bolivia, Chile and Colombia (source: worldflags101).