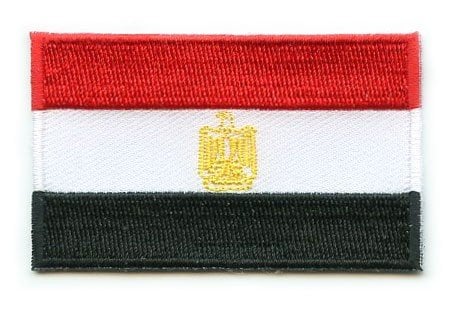 Egypt flag patch
Regular price
$4.00
/
Tax included.
Shipping
calculated at checkout.
---
Free worldwide shipping from €50
In stock, ready to ship

Inventory on the way
Size: 6.5 x 4 cm (2.56 x 1.57 inch)
The flag of Egypt consists of three equal sized horizontal stripes - the top stripe is red; the middle one white; and the bottom stripe is black. In the center of the Egyptian flag is an emblem of the eagle of Saladin.
Meaning: The colors of the Egyptian flag are traditional Pan-Arabic colors. The red stripe refers to the period before the 1952 revolution; which brought a group of army officers to power after deposing King Farouk, the King of Egypt. This period was characterized by the struggle against British occupation of the country. The white symbolizes the revolution which ended the monarchy but without bloodshed. The color black symbolizes the end of the oppression of the Egyptian people at the hands of the Monarchy and British colonialism.
History: This version of the Egyptian flag was adopted on October 4, 1984. Modern Egypt's first national flag was adopted when Egypt gained partial independence from Britain on February 28, 1922. The Egyptian flag consisted of a white crescent with three stars on a green background. Following the 1952 coup, the Egyptian flag was replaced by the current design and since then has only seen changes to the centre emblem.
Interesting Facts: The eagle emblem in the middle of the Egyptian flag is sometimes pictured with different colors inside of it. Abusing the Egyptian flag in any way is a criminal offense in Egypt and is punishable by law - as it indicates contempt of the power of the state. Egyptian laws also protect the abuse of foreign flags or national emblems of other countries (source: worldflags101).