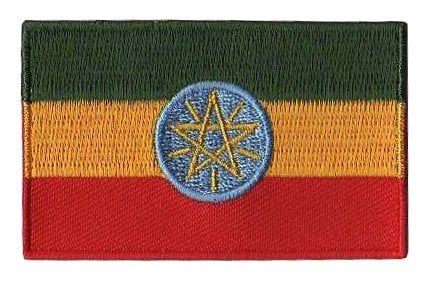 Ethiopia flag patch
Regular price
$4.00
/
Tax included.
Shipping
calculated at checkout.
---
Free worldwide shipping from €50
In stock, ready to ship

Inventory on the way
Size: 6.5 x 4 cm (2.56 x 1.57 inch)
The flag of Ethiopia consists of three equal horizontal stripes - the top stripe is green; the middle is yellow; and the bottom stripe is red. In the middle of the flag is the country's coat of arms on a blue circle. It is often seen without the blue circle and emblem.
Meaning: The colored stripes on the Ethiopian flag are significant - the red stripe stands for power, faith and blood; the yellow symbolizes the church, peace, natural wealth and love; and the green represents the land and hope. The colors were also interpreted to have a connection to the Holy Trinity, and the three main provinces of Ethiopia. The star represents unity of the people and the races that make up Ethiopia. The five rays on the outside of the star represent prosperity and the blue disk represents peace.
History: The Ethiopian flag was adopted on February 6, 1996, making it one of the world's newest flags. The Ethiopian colors date from the 1890s, when forces loyal to the emperor are believed to have flown pennants of green, yellow and red as they fought against Italian forces. The first Ethiopian flag using these same colors was adopted in 1897.
Interesting Facts: Ethiopia is credited with establishing the green, yellow and red colors that have come to symbolize African independence and unity. Ethiopia is the oldest independent African state. The colors became known as Pan African colors. Sometimes black is added to these colors to represent the African people (source: worldflags101).