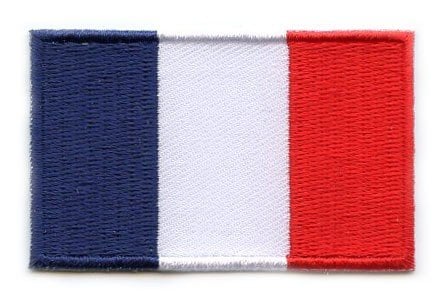 French flag patch
Regular price
$4.00
/
Tax included.
Shipping
calculated at checkout.
---
Free worldwide shipping from €50
In stock, ready to ship

Inventory on the way
Size of this French flag patch: 6.5 x 4 cm (2.56 x 1.57 inch)
The flag of France consists of three equal vertical stripes:
- The left stripe is blue
- The middle one is white
- Tthe right side is red
The French flag patch is based on a red, white and blue cockade (a badge of concentric circles) which was worn by King Louis XVI while addressing a revolutionary gathering in Paris. The King had added white to the cockade as it is the traditional color of French royalty. Red and blue are also the traditional livery colors of Paris, the country's capital city.
History
The French flag is one of the world's oldest flags: it was adopted in May 1794. It was created in 1790, but with the colors were reversed to how they appear on the flag today. After Napoleon's defeat at Waterloo the French flag was put out of use, however it was reintroduced in 1830 and has remained in use ever since.
Fun fact: The French flag patch is commonly known as the 'French Tricolore', and has been the inspiration for many other flags around the world (source: worldflags101).