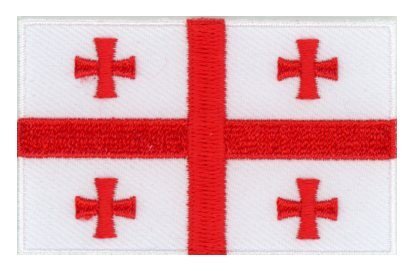 Georgia flag patch
Regular price
$4.00
/
Tax included.
Shipping
calculated at checkout.
---
Free worldwide shipping from €50
In stock, ready to ship

Inventory on the way
Size: 6.5 x 4 cm (2.56 x 1.57 inch)
The flag of Georgia consists of a white base with a red cross through the center of it and dividing the flag into quarters. In the middle of each quarter is a smaller red cross.
Meaning: The central design element of the "Five Cross" flag is the St. George Cross in the middle of it. The St. George Cross is still used as the national flag of England. St George is the patron saint of Georgia. According to Georgian scholar Giorgi Gabeskiria, the four small crosses were probably added during the reign of Giorgi V who drove out the Mongols. Around that era, the new flag design was adopted as a variation of the Jerusalem cross, a symbol used by crusaders in the Holy Land, which also used a central cross with four smaller "crosslets" in its four corners. The crosses are said to have represented the five Holy Wounds of Christ.
History: This Georgian flag was adopted on January 14, 2004, making it possibly the world's newest flag. It was used for about three years as the flag of the National Movement, whose leader was Mikhail Saakashvili, the current President of Georgia (2004). Georgia gained its independence from the Soviet Union on April 9, 1991. The first record of the five-cross flag design dates to the mid 14th century when an unknown Franciscan monk wrote that the kingdom's flag was "a white-colored cloth with five red crosses on it."
Interesting Facts: The basic design of this Georgian flag was in use over 500 years ago as it was previously the flag of the medieval Georgian kingdom. (source: worldflags101)