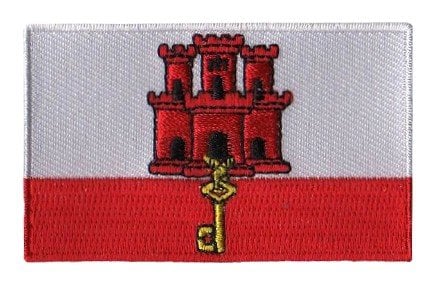 Gibraltar flag patch
Regular price
$4.00
/
Tax included.
Shipping
calculated at checkout.
---
Free worldwide shipping from €50
In stock, ready to ship

Inventory on the way
Size: 6.5 x 4 cm (2.56 x 1.57 inch)
The flag of Gibraltar consists of two horizontal stripes - the top stripe is two thirds of the width of the flag and is white; while the bottom third of the flag is red. There is a three-towered, two-tiered red castle in the white stripe. Each tower has a door and a window and there is a gold key hanging down from the door of the middle tower which overlaps the red stripe.
Meaning: The Gibraltar flag is actually an elongated version of the arms of Gibraltar. The castle and key and the Montis Insignia Calpe motto are one of the oldest battle honors in the British Army. They were featured as the badge of several regiments who defended Gibraltar during the sieges. The badge is borne on the Colors of several regiments.
History: The Gibraltar flag was adopted on November 8, 1982. Gibraltar has the same status as Bermuda, Falkland Islands, etc. Gibraltar, like the others, to be called the Crown colonies but are now considered United Kingdom Dependent Territories or Overseas Territories.
Interesting Facts: The coat of arms of a key suspended from a chain from a three-towered castle was given to Gibraltar in December 1501 by King Ferdinand and Queen Isabella. Gibraltar was Spanish territory until 1714. (source: worldflags101)