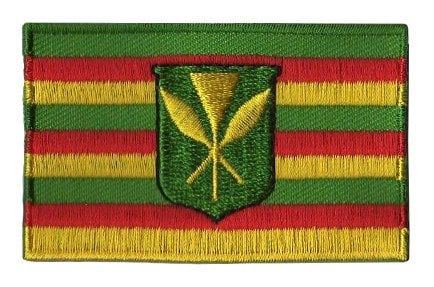 Hawaii flag patch (old flag)
Regular price
$4.00
/
Tax included.
Shipping
calculated at checkout.
---
Free worldwide shipping from €50
In stock, ready to ship

Inventory on the way
Size: 6.5 x 4 cm (2.56 x 1.57 inch)
The Kanaka Maoli ("true people" in the Hawaiian language) flag is sometimes claimed to be the original flag of the Kingdom of Hawaiʻi. To some, this flag symbolizes the Native Hawaiians, because the present Hawaiian flag, a hybrid of British and American symbolism, evokes images of colonialism. The colors are red-green-yellow, said to have been Kamehameha's personal flag, and reintroduced by Kamehameha III. The central design is also present in the official coat of arms of the Kingdom of Hawaiʻi.

Gene Simeona of Honolulu claims he has recreated the "original" Hawaiian green, red, and yellow striped flag, destroyed by British navy Captain Lord George Paulet when he seized Hawaiʻi for five months in 1843. Simeona says a descendant of Paulet, whom he met on the grounds of ʻIolani Palace in 1999, told him the present Hawaiian flag is not the original. Simeona said he found the design in the Hawaiʻi State Archives. However, no evidence to date has supported this claim either in Hawaiian newspapers, historical sketches, nor any government documentation of that era.

At the center of the flag is a green shield bearing a coat of arms of the kanaka maoli, made up of the royal kahili, the original Hawaiian royal standard. Crossing this kahili are two paddles, representing both voyaging traditions of Hawaiians, and Kamehameha's Law of the Splintered Paddle. There are nine stripes unlike the eight striped flag of the present state of Hawaiʻi. Each stripe represents one of the inhabited Hawaiian islands. They are: Hawaiʻi Island, Maui, Kahoolawe, Lanai, Molokai, Oahu, Kauai, Niihau, and Nihoa. According to this flag's promoters, the green in the flag represents the maka 'ainana (commoners), the land and goodness; the red represents the landed konohiki (middle class), genealogy and strength; and the yellow represents the aliʻi, spirituality and alertness to danger. Other flags have been proposed, and interpretations of colors, but even leaders of the Hawaiian sovereignty movement often use the current state flag, since it was in effect after 1843 (source:Wikipedia).