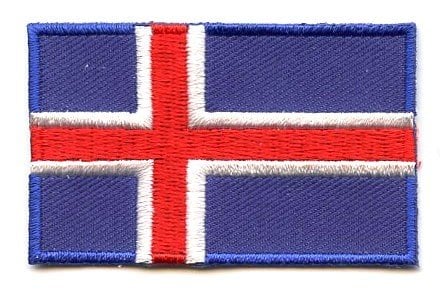 Iceland flag patch
Regular price
$4.00
/
Tax included.
Shipping
calculated at checkout.
---
Free worldwide shipping from €50
In stock, ready to ship

Inventory on the way
Size of this Iceland flag patch: 6.5 x 4 cm (2.56 x 1.57 inch)
The flag of Iceland consists of a blue base with a red cross bordered in white. This cross represents Iceland's Scandinavian connection. The vertical stripe of the cross is towards the left side of the flag, leaving the cross uncentered.
What does it mean?
The designer of the flag, Matthias Thordarson, has another explanation for the colors: blue represents the mountains, the white color is for snow and red for fire and lava, as Iceland has much volcanic activity. Furthermore, the Icelandic flag is a reversed version of the Norwegian flag and it reflects Iceland's early ancestral link to Norway. It also incorporates the red and white of Denmark's flag.
Facts about the Iceland flag patch:
1. According to Icelandic law the use of the flag is a privilege and not a right, therefore the owner of the flag must follow instructions on its usage and make sure that the Icelandic flag is in excellent condition.
2. The law also states that nobody shall disrespect the Icelandic flag physically or verbally. If they do the person faces a fine or imprisonment up to one year.
3. Law also states that the Icelandic flag shall not be flown before 7am and it should preferably not be flown after sunset but must not be flown past midnight.