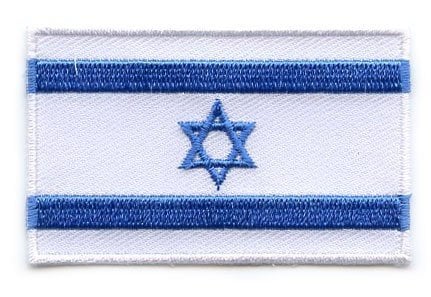 Israel flag patch
Regular price
$4.00
/
Tax included.
Shipping
calculated at checkout.
---
Free worldwide shipping from €50
In stock, ready to ship

Inventory on the way
Size: 6.5 x 4 cm (2.56 x 1.57 inch)
The flag of Israel consists of a white background with a horizontal blue stripe towards the top and an equal sized stripe across the bottom section. In the middle of the Israeli flag is a blue Star of David.
Meaning: The Star of David (Magen David) is also known as the Jewish star and is a symbol of Judaism. The Star was officially used as a Jewish symbol for the first time in 1354. A modern interpretation of the Israeli flag states the blue and white stripes represent purity, guided by the principles of the Torah and the Star of David represents a new beginning for Israel.
History: The Israeli flag was adopted on October 28, 1948, five months after the country's independence on May 14, 1948 from the British Mandate. The Israeli flag is modeled after the Jewish prayer shawl known as the Tallit. The current Israeli flag is based on the Zionist movement flag which is about 100 years old, which represented the Jewish population in the Mandate era but had no official standing.
Interesting Facts: From most accounts, the Magen David was originally chosen on the flag of the Jewish community of Prague in the middle ages for decorative purposes. It was basically just a star with no meaning to it. There is a custom used for the Israeli national flag's flagpole. The flag pole is painted blue, about one third of the way up the pole, and white at the top section (source: worldflags101).