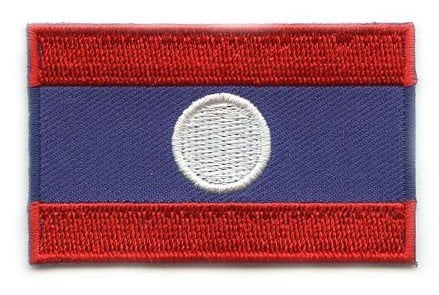 Laos flag patch
Regular price
$4.00
/
Tax included.
Shipping
calculated at checkout.
---
Free worldwide shipping from €50
In stock, ready to ship

Inventory on the way
Size: 6.5 x 4 cm (2.56 x 1.57 inch)
The flag of Laos consists of three horizontal stripes with a white circle in the middle. The top and bottom stripes are equal width and are red; while the middle stripe is blue and equal to the width of the two red stripes.
Meaning: The Red stripes represent the blood shed in the country's fight for independence. The blue stands for Laos' wealth and prosperity and the white symbolizes unity and justice. Another interpretation of the Laotian flag states the white circle symbolizes the full moon over the blue Mekong River, which runs through and alongside the majority of Laos.
History: The Laotian flag was adopted on December 2, 1975. The Laotian flag is based on the flag of the Lao Patriotic Front, which is usually referred to as the Pathet Lao, outside of Laos. Pathet Lao was a communist nationalist movement that fought for Laotian independence. In 1975 the Pathet Lao took over control of the Laotian government and abolished the country's monarchy. They set up a communist administration and changed the country's name to the Lao People's Democratic Republic and officially adopted the current national flag. Laos gained independence form France on July 19, 1949.
Interesting Facts: The flag of Laos is one of the few communist-style flags that doesn't feature a star on it (source: worldflags101).