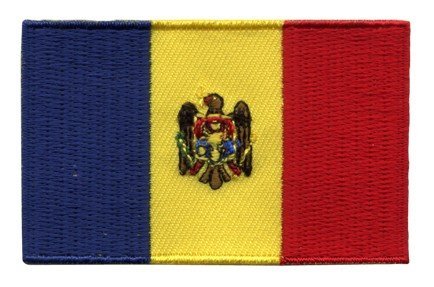 Moldova flag patch
Regular price
$4.00
/
Tax included.
Shipping
calculated at checkout.
---
Free worldwide shipping from €50
In stock, ready to ship

Inventory on the way
Size: 6.5 x 4 cm (2.56 x 1.57 inch)
The flag of Moldova consists of three equal-sized vertical stripes - the left stripe is blue; the middle one yellow; and the right stripe is red. In the middle of the yellow stripe and the flag is the country's coat of arms, which consists of an eagle with the red and blue horizontally divided shield of Moldova on its chest. The shield contains various traditional emblems surrounding a stylized aurochs (European bison) head.
Meaning: The Moldavian flag was based on the Romanian national flag and represents Moldova's shared heritage with Romania. The coat of arms consists of the eagle of Walachia holding an Orthodox Christian cross in its beak and an olive branch in one talon, with the scepter of Michael the Brave of Walachia in the other. Walachia is a historic region of Eastern Europe.
History: The Moldavian flag was and adopted on May 12, 1990. Moldova gained independence from the Soviet Union on August 27, 1991. Romania/Moldova adopted a flag in the three colors during the revolutions of 1848 which drew inspiration from the French revolution.
Interesting Facts: Moldova was a part of Romania until the Second World War, and the Moldovan coat of arms is the only difference between the flag of Moldova and the Romanian flag. (source: worldflags101)