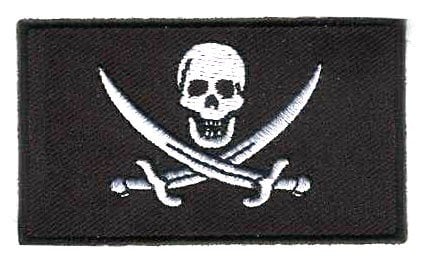 Pirate flag patch
Regular price
$4.00
/
Tax included.
Shipping
calculated at checkout.
---
Free worldwide shipping from €50
In stock, ready to ship

Inventory on the way
Size: 6.5 x 4 cm (2.56 x 1.57 inch)
A black flag which features a skull and crossbones is known as the Jolly Roger and is the traditional flag of American, Caribbean and European pirates. There were, however, many variations of the flag as some had emblems such as spears, darts, hourglasses and skeletons added to them. Dancing skeletons meant the pirates didn't care about their fate while some flags warned people that death awaited them. A black flag with skull and crossbones was also used in world War II by the Chetniks; a Yugoslav resistance group which supported the Kingdom of Yugoslavia. The origin of the name Jolly Roger is uncertain and there are a few theories about it, but many people think it came from the French term "Jolie Rouge"; which means pretty red. Red pirate flags were seen often at sea, in the late 1600's, as English Privateers flew them. Around 1714, many privateers turned to piracy and still flew the red pirate flag, which stood for blood. Pirates often had two flags at this time, a plain red pirate flag and a plain black pirate flag. The black pirate flag meant prisoners would be taken and the red pirate flag meant no mercy. Sailors hated to see the black pirate flag, but the red pirate flag one was much worse as it meant no life would be spared. The term Jolly Roger was also used for the skull and crossbones which came into use around 1700. Another pirate flag legend states the name may come from the English word "roger" which means a wandering vagabond: "Old Roger" was a name given to the devil. The Jolly Roger was used to intimidate ships into surrendering and giving up their cargo, this was often done without a shot being fired. If the ship resisted the Jolly Roger it was often taken down and replaced with the red pirate flag, which meant the pirates would show no mercy. Word quickly spread that it was a good idea to surrender peacefully. The sight of a Jolly Roger did have some drawbacks. If a ship saw it in time and was far enough away, it would often escape and warships were often given orders to fire at any ship flying the flag. The flag is still used today by Royal Navy submarines which fly it after "a kill" when entering port, a tradition which started in World War II. American destroyers have also frequently flown the Jolly Roger, or pirate flag, as an unofficial flag (source: worldflags101).