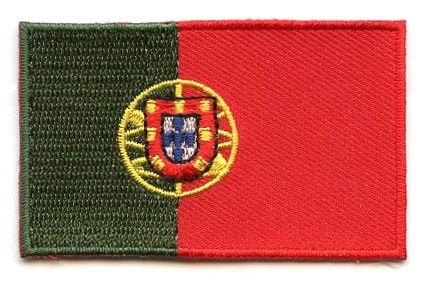 Portugal flag patch
Regular price
$4.00
/
Tax included.
Shipping
calculated at checkout.
---
Free worldwide shipping from €50
In stock, ready to ship

Inventory on the way
Size of this Portugal flag patch: 6.5 x 4 cm (2.56 x 1.57 inch)
The flag of Portugal consists of two vertical stripes:
- The left stripe is green, which represents hope
- The right stripe is a shade of red, which represents the Portuguese revolution of 1910
The stripes are uneven as the green stripe takes up two fifths of the flag's length and the red stripe takes up the remaining three fifths. A coat of arms with the country's traditional shield is centered on the Portuguese flag where the two colors meet. The white shield consists of five blue shields with five white dots, and the blue shields represent the first king of Portugal, Alfonso Henriques I,
The red border featuring seven castles symbolizes the extension of Portugal's territory to include the Algarve. Behind the arms there is a navigational instrument, an armillary sphere. It celebrates Prince Henry the Navigator, who initiated the maritime exploration that led to Portugal's one time colonial empire.
Facts about this Portgual flag patch:
After the republican revolution in 1910, a number of different flag designs were proposed for the new republic and this sparked a large debate. The main question was: should we keep the traditional liberal colors of the monarchy, blue and white, or adopt the red and green of the Republican Party? The red and green proposal won!