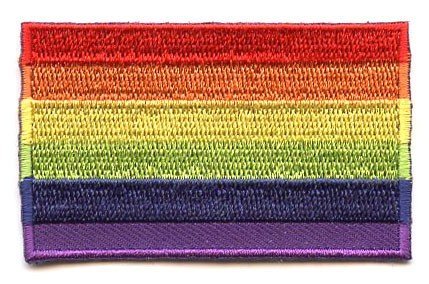 Rainbow flag patch
Regular price
$4.00
/
Tax included.
Shipping
calculated at checkout.
---
Free worldwide shipping from €50
In stock, ready to ship

Inventory on the way
Size: 6.5 x 4 cm (2.56 x 1.57 inch)
A flag made of six stripes (red, orange, yellow, green, blue and purple) representing the colors of a rainbow was designed in 1978 by Gilbert Baker of San Francisco. The rainbow flag was meant to represent gay and lesbian community pride. The rainbow flag slowly became popular and became an alternative to the gay pink triangle symbol, which was first used in Nazi Germany to point out homosexual males in concentration camps. The color green was associated with homosexuality in Victorian era England and purple became popular for gay pride in the late 1960's. The pink triangle became popular in the 1980's. The rainbow flag is now commonly recognized and flown worldwide in lesbian and gay pride parades. The flag gained attention across America in 1989 after John Stout successfully sued his landlords in West Hollywood, after they forbade him from flying the flag from his apartment balcony. Although the flag was originally meant for use in San Francisco it can also be seen in bars, apartments and on lampposts in gay areas of certain cities such as Amsterdam and New York. According to flag designer, Baker, the rainbow flag can be flown either side up. A survey done in San Francisco showed 80 per cent of people flew it with the red stripe on top. There is also a vertical variation of the flag and versions which have the pink triangle symbol on them. Black is often associated with lesbianism and a black triangle on pink is also a popular emblem. There are many other flags which represent a person's sexual orientation or preference including flags for bisexuals and people who enjoy bondage, domination and sado-masichism among other things. There are also flags which are used in the Gay Games (gay sporting events) throughout the world (source: worldflags101).