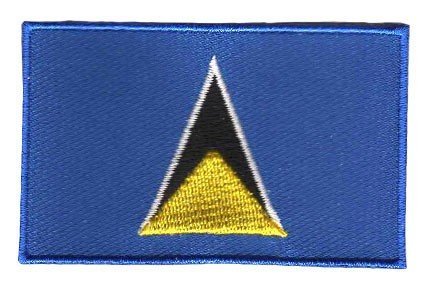 Saint Lucia flag patch
Regular price
$4.00
/
Tax included.
Shipping
calculated at checkout.
---
Free worldwide shipping from €50
In stock, ready to ship

Inventory on the way
Size: 6.5 x 4 cm (2.56 x 1.57 inch)
The flag of Saint Lucia consists of a light blue base. In the center of the flag there is a gold isosceles triangle pointing upwards below a black arrowhead that is outlined in white.
Meaning: The government of Saint Lucia describes the flag as this: Cerulean blue represents fidelity. This blue reflects our tropical sky and also our emerald surrounding waters- the Caribbean Sea and the Atlantic Ocean. Gold represents the prevailing sunshine in the Caribbean and prosperity. Black and white stand for the cultural influences - the white part, the white culture; the black part, the black culture -the two races living and working in unity. The design impresses the dominance of the Negro culture vis-'¾-vis that of Europe, against a background of sunÎ_shine and ever-blue sea. This is represented by the three triangles in the centre of the flag, symbolizing three pitons. The Triangle, the shape of which is an isosceles triangle, is reminiscent of the island's famous twin Pitons at Soufriere, rising sheer out of the sea, towards the sky -themselves, a symbol of the hope and aspirations of the people.
History: The Saint Lucian flag was adopted on March 1, 1967. Saint Lucia gained independence from Britain on February 22, 1979. St. Lucia was first settled by France in 1650 and used the same flag as Martinique, its neighboring island to the north. It became British in 1814. The Saint Lucian flag was designed in 1967 and underwent slight changes in 1979.
Interesting Facts: The flag was designed by Saint Lucian artist Dunstan St. Omer. Saint Lucuian protocol states that when the national flag is flown with other flags it should be the first flag hoisted and the last to be lowered. It should never be lowered while other flags are flying or being hoisted. When the Saint Lucian flag is on display it should not touch anything beneath it such as furniture, floors, trees plants, vehicles, buildings, water or the earth (source: worldflags101).