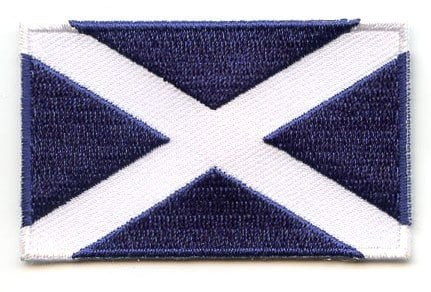 Scotland flag patch
Regular price
$4.00
/
Tax included.
Shipping
calculated at checkout.
---
Free worldwide shipping from €50
In stock, ready to ship

Inventory on the way
Size of this Scotland flag patch: 6.5 x 4 cm (2.56 x 1.57 inch)
The flag of Scotland consists of:
- A dark blue base
- A white St. Andrew's cross through the middle of it.
There is no official date of adoption for the Scottish flag but the use of the St. Andrew's cross dates back to at least the 12th century and perhaps as early as the eighth century. By the 15th century the cross was used with a blue background.
What does it mean?
Traditional belief states that Scotland's adoption of St Andrew, a disciple of Jesus who is said to have been crucified on an X-shaped cross, as their patron saint was because some of his bones were taken to Scotland and buried at the site of modern day St Andrews. A different legend dating to the 8th century says that King Angus, about to lead his army into battle against a stronger force, spent the night praying for divine guidance and St Andrew appeared in his dreams, promising victory. The next day the King saw white clouds form a saltire (cross) when he looked up into the blue sky. After this vision Angus led his soldiers to victory and he proclaimed St Andrew as the patron saint of Scotland.
Fact about the Scotland flag patch:
The Scottish flag is one of three flags that make up the Union Jack of Great Britain, one of the most famous flags in the world. The Union Jack consists of the Scottish white cross of St. Andrew, the English red cross of St. George, and the Northern Irish red cross of St. Patrick on a blue base.