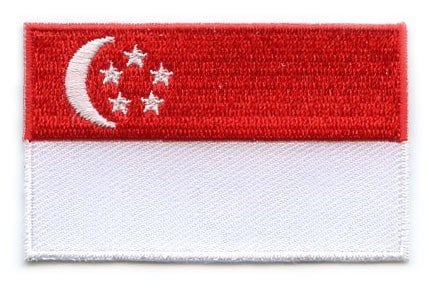 Singapore flag patch
Regular price
$4.00
/
Tax included.
Shipping
calculated at checkout.
---
Free worldwide shipping from €50
In stock, ready to ship

Inventory on the way
Size of this Singapore flag patch: 6.5 x 4 cm (2.56 x 1.57 inch)
The flag of Singapore consists of two equal-sized horizontal stripes:
- The top stripe is red, which represents universal brotherhood and equality of man
- The bottom one is white, which stands for purity and virtue
On the left hand side of the red stripe there is a white crescent moon with, which symbolizes the young nation of Singapore on the rise. The five white, five-pointed stars represent the country's ideals of democracy, peace, progress, justice and equality.
Facts about the Singapore flag patch
- The British Union Jack flew over Singapore for 140 years, from 1819 to 1959
- The Singapore flag was meant to be red, because red is a very traditional Chinese color and the majority of Singapore's population is Chinese. However, the idea was scrapped as red was associated with communism.
- The Singapore flag was originally designed with three stars, until the country's leaders expressed concern that Singapore might be perceived to be associated with the Malayan Communist Party, as their flag also had three stars.