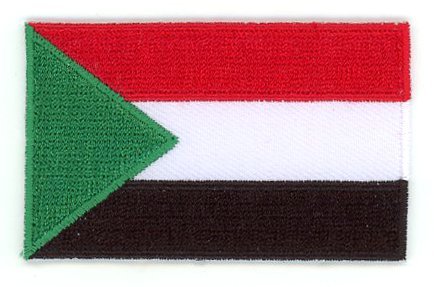 Sudan flag patch
Regular price
$4.00
/
Tax included.
Shipping
calculated at checkout.
---
Free worldwide shipping from €50
In stock, ready to ship

Inventory on the way
Size: 6.5 x 4 cm (2.56 x 1.57 inch)
The flag of Sudan consists of three horizontal stripes - the top stripe is red, the middle is white and the bottom stripe is black. On the left side of the Sudan flag there is a horizontal green triangle pointing towards the middle.
Meaning: Red, white, black and green are called the pan-Arab colors and have been historically linked to the Arab people and Islamic religion for centuries. The colors stand for Arab unity and independence. The red stripe represents Sudan's struggle for independence and the sacrifices of the country's martyrs. The white represents peace, light and optimism. It also represents the White Flag League which was a nationalist group that rose up against colonial rule in 1924. The black represents Sudan; in Arabic 'Sudan' means black. It also represents the black flag of nationalists who fought colonial rule during the Mahdist Revolution, late in 19th century. Green represents Islam, agriculture and the prosperity of the land.
History: The Sudan flag was adopted on May 20, 1970. Sudan gained independence from Egypt and Britain on January 1, 1956, and at that time adopted a blue, yellow and green horizontal striped flag. The Sudan flag was changed in 1970 after a military coup in 1969.
Interesting Facts: The Sudan flag's design was the result of a nationally held flag competition and it is based on the Arab Liberation Flag of Egypt. (source: worldflags101)