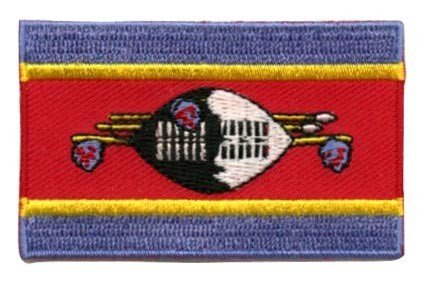 Swaziland flag patch
Regular price
$4.00
/
Tax included.
Shipping
calculated at checkout.
---
Free worldwide shipping from €50
In stock, ready to ship

Inventory on the way
Size: 6.5 x 4 cm (2.56 x 1.57 inch)
The flag of Swaziland consists of four horizontal stripes - the top and bottom stripes are blue and the center stripe is red. The red stripe is bordered on the top and bottom by a thin yellow stripe. In the middle of the red stripe and the flag there is an emblem that consists of an ox hide combat shield from the traditional Swazi Emasotsha Regiment, as well as their assegais or spears, a Swazi fighting stick and three royal Swazi ornamental tassels called tinjobo, which are made from widow bird and loury feathers.
Meaning: The red stripe represents the past battles fought for Swaziland. The yellow represents the country's mineral wealth and the blue stands for peace.
History: The flag was adopted on October 30, 1967, a year before Swaziland gained independence from Britain on September 6, 1968. The colors of the Swaziland flag are based on a military flag which was presented to the Swazi Pioneer Corps in 1941, by the king of Swaziland to remind them of Swazi military traditions.
Interesting facts: Prior to gaining independence from Britain, Swaziland flew the British Union Jack (source: worldflags101).