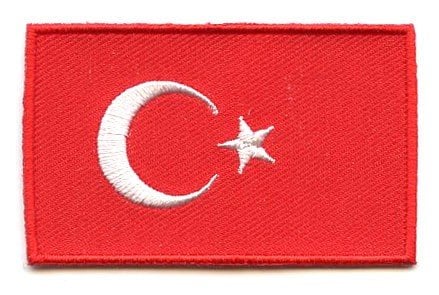 Turkish flag patch
Regular price
$4.00
/
Tax included.
Shipping
calculated at checkout.
---
Free worldwide shipping from €50
In stock, ready to ship

Inventory on the way
Size: 6.5 x 4 cm (2.56 x 1.57 inch)
The flag of Turkey consists of a red base with a white crescent moon and a five-point star towards the left side of the flag.
Meaning: Red is a traditional Islamic color and was the color used by the Ottoman Empire, who formerly ruled Turkey, but the empire collapsed in 1918. The crescent and star are ancient symbols of Islam and are considered to be signs of good luck. The color red is a prominent color in Turkish history and even though the crescent and star are symbols of Islam they have been used in Asia Minor even before the advent of Islam.
History: The Turkish flag has been in use since 1844 but wasn't officially adopted until June 5, 1936. Originally the flag was a crescent on a green base, but this was changed in 1793 when Sultan Selim III changed the background to red. The star was then added in 1844. Like most of the older flags in the world, there are many legends that describe the history and creation of the Turkish flag and the facts are sometimes hard to substantiate.
Interesting Facts: The Flag of Turkey is called 'Ay Yildiz' in Turkish which means 'moon star' in English. Another nickname for the Turkish flag is 'al sancak', which translates roughly into 'red banner' (source: worldflags101).