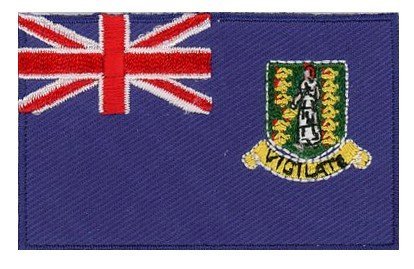 Virgin Islands (UK) flag patch
Regular price
$4.00
/
Tax included.
Shipping
calculated at checkout.
---
Free worldwide shipping from €50
In stock, ready to ship

Inventory on the way
Size: 6.5 x 4 cm (2.56 x 1.57 inch)
The flag of the British Virgin Islands consists of a dark blue base with the British Union Jack in the top left corner, and one of the country's badges on the right side of the flag. The badge consists of a green shield with 12 golden oil lamps with red flames and a female figure, St. Ursula, patron saint of the British Virgin Islands attired in white and wearing sandals, carrying one of those lamps. Beneath the shield there is a golden ribbon that says 'vigilate', which means be watchful.
Meaning: It is said that when Columbus discovered the British Virgin Islands in 1493, he named them 'Las Virgenes' in honor of St. Ursula and her companions. The eleven lamps which surround the figure of St. Ursula each represent 1,000 of the 11,000 Virgins who, according to the legend, were martyred along with St. Ursula. The figure of St. Ursula and the lamps are surrounded by a garland of two green branches. The Union Jack represents the country's ties to Britain, as it is a British Overseas Territory.
History: The British Virgin Islands flag was adopted on November 15, 1960.
Interesting Facts: The shield on the British Virgin Islands flag was a part of the coat of arms of the Leeward Islands. In 1960 a motto was added to the shield to make it the coat of arms of the Virgin Islands. Between 1956, when the federation of the Leeward Islands was dissolved, and in 1960 some flags were made with the shield but had no motto (source: worldflag101).